ANCIENT ART AND ANTIQUITIES GALLERY
Welcome to the Alte Roemer Gallery, your specialist for antiquities and ancient art from the Mediterranean.
In our online shop you will find authentic artefacts covering the time span from Bronze Age until Late Antiquity. Our focus is on Ancient Roman, Greek, and Egyptian antiquities. Ancient numismatics is extensively covered with focus on Roman and Greek coins. We are looking forward to welcome you in our online gallery!
Yours,
Alexander Khalaidovski, Matthias Höh
FEATURED ANCIENT OBJECTS IN OUR ONLINE GALLERY
ANCIENT ART GALLERY SPECIALIZING IN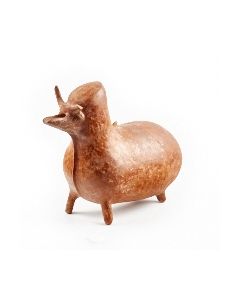 The imposing vessel is shaped like a zebu, a domestic cattle from the Ancient Near East. This category of object is famous since the Amlash excavations in the Iranian Gilan Province. With its stylization it is a rare artistic masterpiece of the mysterious Iron Age cultures of Iran.
ALTE ROEMER ANCIENT ART GALLERY AT A GLANCE